By Danae Lee |
29
August 2022 |
0
Comments
4G LTE Outdoor CPE WiFi Router | Boost your internet speed
Do you want to get a strong WiFi Router signal in a 4G LTE network?
4G CPE Outdoor Router is a good choice!
Part I. What is the Outdoor 4G LTE CPE WiFi Router?
4G Outdoor CPE XYC1841 is different from a WiFi-only Router, which needs to connect with the fiber-optic network, and the 4G Outdoor Router can receive the operator's 4G LTE network signal and convert it into broadband and Wi-Fi. You only need to insert a SIM card with a data plan to enjoy a stable and reliable WiFi signal with family and friends.
CPE Outdoor Router can be used in harsh outdoor environments, and routers s installed Outdoors or near windows can better receive 4G signals, especially in areas with weak 4G signal coverage.
As the below picture shows, LTE Outdoor CPE Router (ODU) is installed outside, which connects to an indoor WiFi Router (IDU) by network cable. POE, power the whole LTE CPE device, and data will transmit the same Ethernet cable, no need to connect the ODU to an electrical outlet.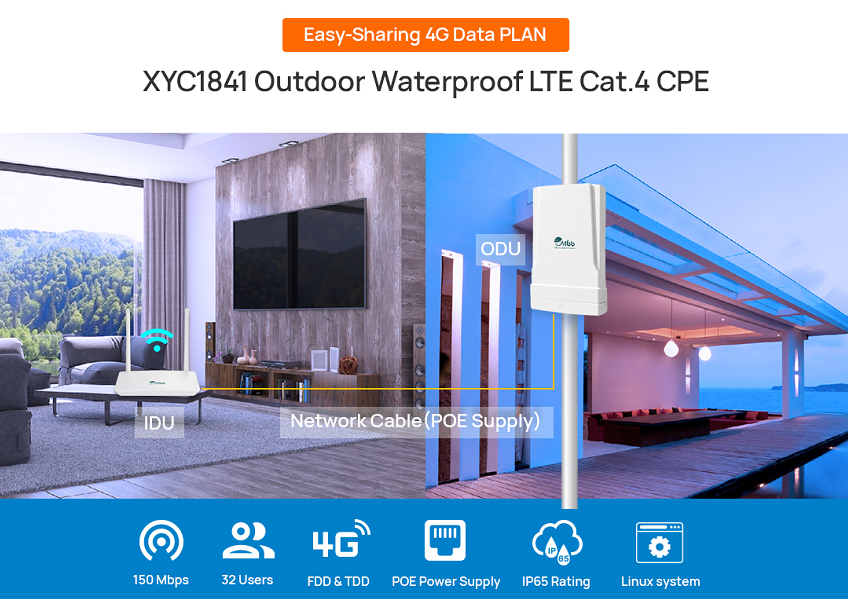 Part II. What are the features of 4G Outdoor CPE?
1.LTE FDD & TDD
The 4G Outdoor CPE Support different 4G frequency bands requirement for different network carriers, which include LTE-FDD, LTE-TDD, 3G WCDMA, and 2G GSM network frequency bands. It meets the frequency band needs of different regions and fully uses network resources.
Bands support

LTE-FDD:B1/B3/B5/B7/B8/B20/B28

LTE-TDD:B38/B40/B41

WCDMA:B1/B5/B8 GSM/EDGE:B3/B8

Option1

LTE-FDD:B1/B2/B3/B4/B5/B7/B8/B28/B66 LTE-TDD:B40

WCDMA:B1/B2/B4/B5/B8 GSM/EDGE:B2/B3/B5/B8

Option2
2. Plug and Play, Easy to Deploy
SmileMbb 4G LTE Router with sim card slot XYC1841 includes an Outdoor Unit (ODU) and an indoor unit (IDU). Receiving the best Outdoor cellular signals through the ODU and connecting to the indoor WiFi Router with a network cable to experience a better network speed. This IDU provides a 12V POE power supply to ODU, it is easy to be deployed, making your cost lower.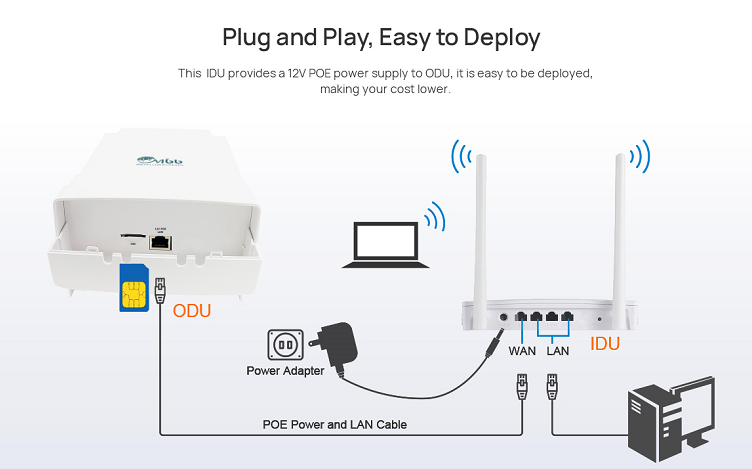 3. Outdoor IP65 Level Weather Proof
SmileMbb Outdoor 4G CPE Router XYC1841, IP65 good waterproof performance, which is UV-resistant, corrosion-resistant, and has a variety of installation methods, -20℃~60℃ wide working temperature. It is ideal for deployment in a variety of Outdoor environments and installation is very easy to operate, use the included mounting bracket to mount on an Outdoor window or wall, or fasten to an antenna mast. Its LED indicator can indicate signal strength which is convenient for the user to find the best position to get a better 4G signal.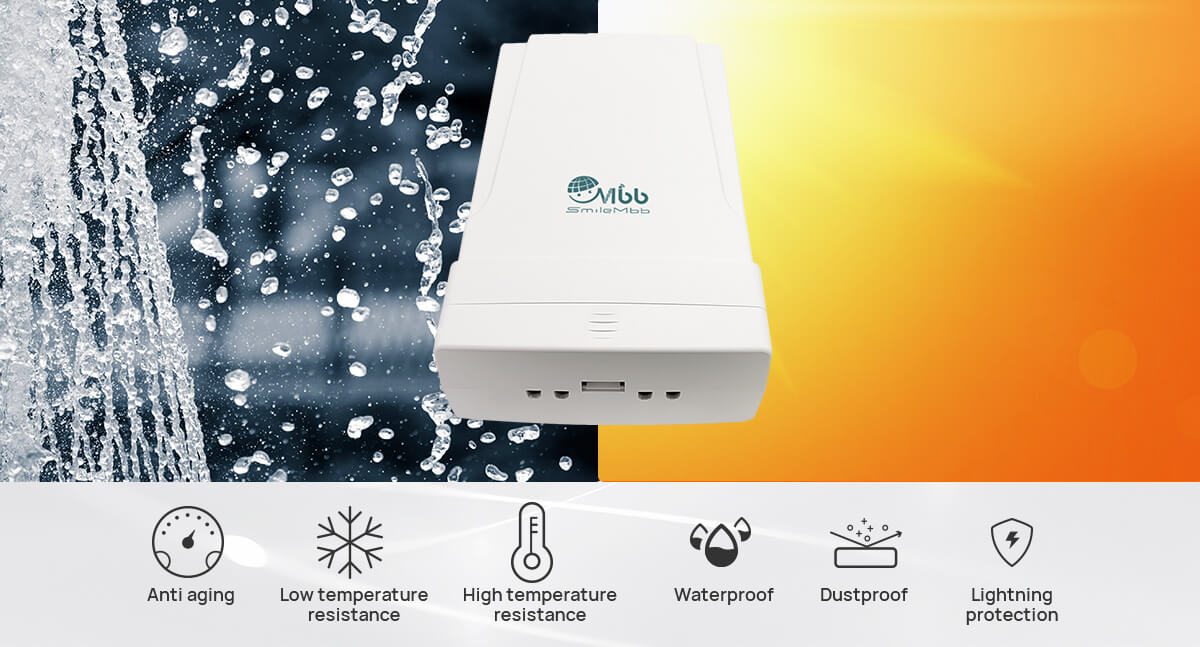 4. Support Web Management
XYC1841 supports Linux system and WebUI management Telnet and SSH terminals system status monitoring NTP client, device system clock network synchronization, import and export of configuration files. It is convenient to launch the web browser to log in to the web management page to configure and manage the CPE.
5. 300Mbps IDU
4G CPE Outdoor Router XYC1841
is with built-in 4G-LTE modem and 5dBi high-gain antenna. LTE CAT4, download rate of up to 150 Mbps and WiFi rate can reach 300Mbps, can connect 32 users at the same time. The high-gain antenna of
the
4G CPE Router
and the power are higher, and its signal transmission and reception capability are stronger than that of the mobile phone. So, in some places the phone doesn't have a signal, it may have a signal. Sometimes you also use your mobile phone as a hotspot to share the Internet access function with your friends, right? this
4G LTE CPE Router WiFi
can connect 32 users simultaneously, which can connect more users than a mobile phone sharing hotspot, and receive excellent signals. The IDU has 4 pcs Lan ports, you can also use a network cable to connect to devices for network connection, which is also a backup method for the Internet.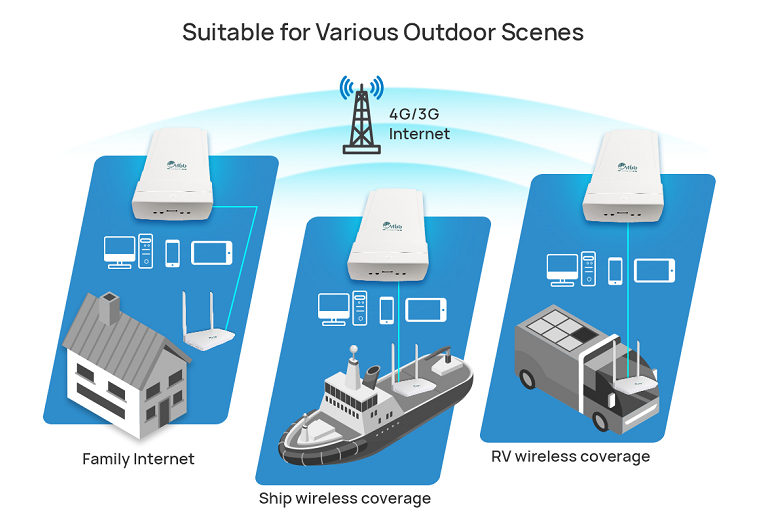 Part III. 4G CPE Outdoor Router Application
4G CPE Outdoor Router is the best solution for connecting to the Internet in remote areas and somewhere with a weak signal, unstable wired network, or lack of reliable WiFi. It can even reduce complex cabling deployments for home networks without the expense of wired fiber network installations.
This is for ISPs or operators to provide their users with a 4G LTE Outdoor WiFi Router, which can provide users with convenient network connections and bring them to enjoy a wonderful network experience, whether in the home, enterprise, or remote areas.
Deploy 4G Outdoor CPE WiFi Router in the countryside, coasts, boats, caravans, campsites, and remote areas to enjoy the best network speeds and Outdoor activities!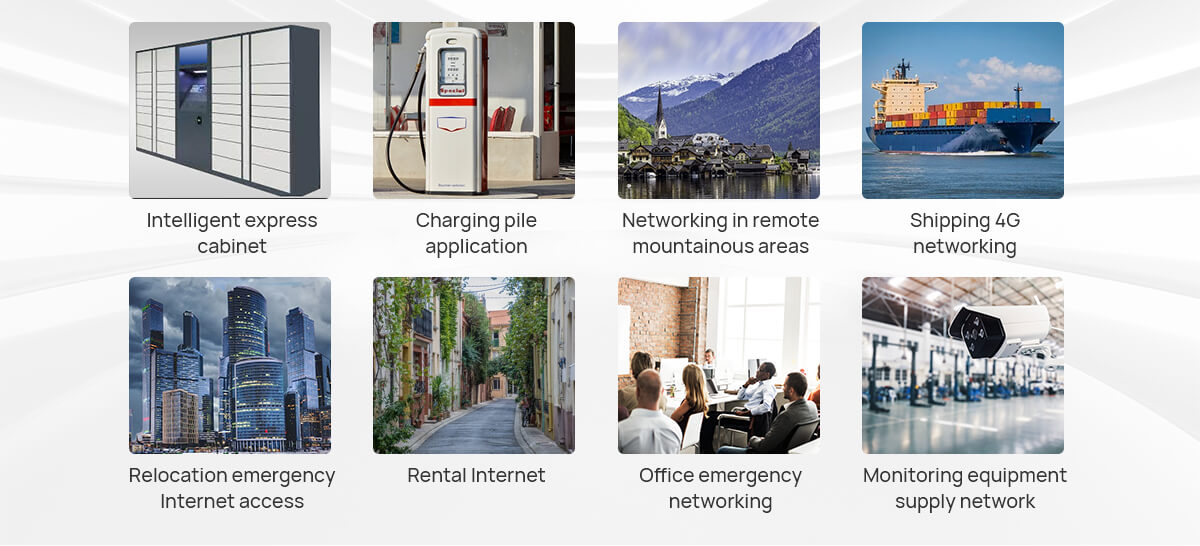 You may be interested:
Leave a Reply
Your email address will not be published.Required fields are marked. *